Swedish Fluff
One hour Therapeutic Swedish Massage
30 minute Reflexology
Choose any Young Living custom aromatherapy combination
1 hour and 30 minutes for $125.00
(FULL PACKAGE VALUE $150 to $155)
Deep Fluff
One hour Deep Tissue Massage
30 minute Reflexology
Choose any Young Living custom aromatherapy combination
1 hour and 30 minutes for $150.00
(FULL PACKAGE VALUE $170 to $175)
Calgone
One hour Classic Swedish Massage
30 minute Reflexology
15 minute facial massage
Choose any Young Living custom aromatherapy combination
1 hour and 45 minutes for $125.00
(FULL PACKAGE VALUE $140 to $145)
Mothers Day
90 minute Prenatal Massage
30 minute Foot Scrub with Essential Oils
2 hours for $130.00
(FULL PACKAGE VALUE $150.00)
1/2 off 4th
Buy any 3 massages and get the 4th ONE 1/2 OFF.
Classic Pak
2 60 minute Classic Swedish Massages.
2 hours for $100.00
(FULL PACKAGE VALUE $120.00)
Basic Swedish Membership
$10.99
Membership includes:
*Classic Swedish 60min Massage for only $45.00
*Classic Swedish 90min Massage for only $75.00
!NO DEEP TISSUE!
*PLUS YOU GET TO CHOOSE FROM EITHER:
*A tranquil aromatherapy essential oil of your choice.
OR
*A relaxing paraffin hand and foot wax dip.
*This is a soothing massage meant to relax the entire body that include stroking, kneading, striking, rubbing, and vibrations. Using massage oil to help the strokes glide, and focus the pressure along the entire muscle.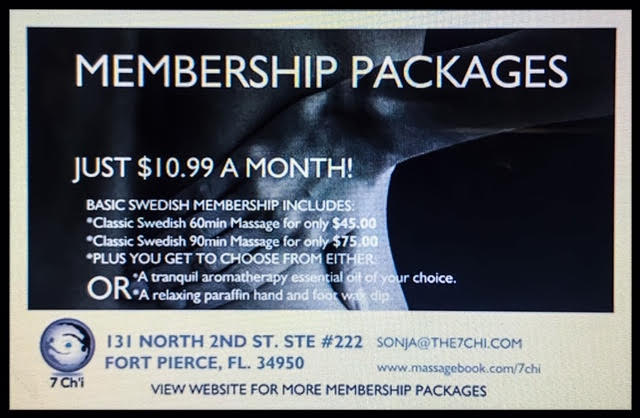 FOR MORE INFORMATION ON OTHER MEMBERSHIP PACKAGES OR TO BE A MEMBER VISIT US AT:
WWW.MASSAGEBOOK.COM/7CHI
Rate & Review
Your opinion maters!
Rate and review by leaving your positive feedback on any one of 7 CH'I social media sites and get an instant $20.00 OFF of your next purchase.
Facebook, Google, or Yelp!
"LIKE!" and FOLLOW on any or ALL of our 7CH'I pages for recent updates, deals, and specials on your next heavenly experience.